Vacationing in Jamaica is a dream for many and a dream-come-true for only a few fortunate people. Quite a few of those who travel to Jamaica prefer to stay at an all-inclusive resort for the convenience and endless opportunities they provide for their guests. Choosing the right one can be tricky, as quite a few resorts offer similar amenities, but at varying price ranges. Researching hotels yourself can be time-consuming and hiring a travel agent will only cost you more money. In the following sections, we will discuss The Caves Jamaica, Round Hill, Royalton Negril, and Secret Wild Orchids Montego Bay.
When trying to decide which luxury resort to stay at, consider what you really want from your hotel. If you want comfort, consider the amenities offered by each luxury resort. Resorts like the Royalton offer a butler service and upgraded room service for Diamond Club Members. Or if you plan on exploring the area, consider the hotel's knowledge of the area and the recommendations and outdoor activities they provide. For those who love water-related activities, check out what Round Hill has to offer.
What is The Caves Jamaica?
Right next to the famous Negril Lighthouse, the Caves Jamaica is a 10-acre, all-inclusive luxury resort with bed-side, breath-taking coastal views, on top of some of the most beautiful sea caves in the world. Only a few miles from Negril on the north coast of Jamaica, the limestone cliffs provide a seductive oceanfront sanctuary. Along with exclusive cottages, visitors can enjoy private dining in natural sea caves.
However, there are a few things not included in the all-inclusive package, including off-site tours, premium food items, many of the outdoor activities, and room service during certain hours. And unfortunately, this resort is not wheelchair accessible.
Product Specs  
The Caves features 12 cliff-side cottages, a grand villa, two dining gazebos, private caves, and the signature Blackwell Rum Bar, along with a spa, jacuzzi, sauna, private hot tub and saltwater swimming pool.
Accommodations
The Caves Jamaica offers cottages with one or two bedrooms, along with the option of a private villa. All of these accommodations come with complimentary Wi-fi, air conditioning, mosquito nets, fans, and beautiful outdoor showers.
Each lodging option gives visitors privacy and views of the gorgeous landscape and breath-taking sunsets. A pet may be allowed, but you should check with the resort, and there will be an extra charge.
There is a limit for guest capacity, so rooms can be hard to get, but many couples have fallen for its charm and made memories worth remembering.
Pricing 
The Caves Jamaica is an all-inclusive hotel, so prices are pretty steep, but if you can afford it, it can be worth it. The Caves is one of the most expensive hotels in Negril. Expect to pay at least $600 per night any time of the year. The price ranges from $560 per night in the low-season for a small suite. For everything, expect to spend over $1,000 per night.
How it Compares 
| Product | Amenities | Things to Do | Dining Options | Audience | Price |
| --- | --- | --- | --- | --- | --- |
| The Caves | | | | | |
| Round Hill | | | | | |
| Royalton Negril | | | | | |
| Secrets Wild Orchid Montego Bay | | | | | |
We picked a few similar products available on the market to see how they compare.
Round Hill
Royalton Negril
Secrets Wild Orchid Montego Bay
The Caves
Price
$$$
Amenities 
The bar is all-inclusive and there is also complimentary Wi-Fi, room service, laundry room, saltwater pool, and a hot tub, but by reservation only.  There's an A/C in every room and a world-class spa with full-body massages.
Things to Do 
The Caves Jamaica provides many on-site activities, including water sports, like cliff diving and snorkeling in the natural caves. On the edge of the property, The Sands provides a cozy settling with some local island tastes.
Dining Options 
Guests can dine in the dining room, in the gazebo, at The Sands, the Blackwell rum bar, or in a private cave. The Sands Bar is a beautiful spot to enjoy breakfast with some morning sunshine. The gazebos provide more privacy for an intimate breakfast in a relaxing setting. The dining room offers a cozy atmosphere with a 24-hour bar and tasty treats.
Another option is one of the two caves, Moonbeam and Seastar, with a private table for two.
Audience 
The Caves Jamaica is ideal for couples looking for a relaxing romantic getaway. It's known for its cottages nestled in the cliff-tops of the beautiful sea caves. They only have 12 cottages available, perfect for a reclusive vacation.
Pros
Adults only; ideal for romantic retreats
Private cottages provide real privacy
Access to natural sea caves
CONS
No Fitness Center
No pets or children allowed
No TV in room, but one can be requested
Round Hill
Round Hill was previously a 100-acre sugarcane plantation that also grew coconuts and allspice. Now, they offer over a variety of villas that provide ultimate comfort for guests. This family-friendly luxury resort loves to share its rich history with tours and momentos in select villas.
Leading by example as Jamaica's premier green hotel, Round Hill is proud of their One Love Learning Foundation's School Yard Garden Project. Students from a couple of local schools grow crops like kale and arugula, which Round Hill purchases and incorporates into their daily dishes. Round Hill is constantly striving to improve their operations and conserve resources.
Price
$$
The price per night per person ranges from $300 to over $1,000, based on average rates.
Amenities 
Amenities include private pool, Free Wi-fi in all main areas of the resort, made-to-order breakfast, and most villas include their own private pools. There are also laundry services, a hot tub, and fitness center.
Things to Do 
Compared to The Caves Jamaica, Round Hill has more outdoor activities to offer, including ATV and dune buggy safaris, zip lines, kayaking, river rafting and tubing, deep-sea fishing, heritage and nature tours, including an opportunity to meet some local dolphins.
Dining Options 
Along with the usual meals Round Hill provides afternoon tea time with handmade snacks. They also offer themed dinners most nights of the week as well as romantic private dining options.
Audience 
This family-friendly resort provides many activities for the entire family, including daily children's programs and games at the Pineapple 7-Up Club and after-hours nanny services so the adults can still have fun after dark.
Pros
Environmental-friendly & Family-friendly
Many outdoor activities for the entire family
Environmental-friendly & Family-friendly
CONS
If you don't get an all-inclusive package, the food and drinks will be expensive.
No Teen's Lounge
Guests Have complained of poor room conditions (for the price).
Royalton Negril
Nestled next to Bloody Bay beach, Royalton Negril offers guests a dreamy experience with four pools with poolside white bali beds. Guests get to enjoy a nightclub for late-night fun and a choice of eight restaurants, each offering a unique cuisine.
Only at Royalton Negril, Diamond Club members are offered their preferred room location and reservations at restaurants, butler service, exclusive beach area with waiter services, access to the Diamond Club Lounge, upgraded room service menu, pillow menu, personalized check-in and out times, and discounted spa and beauty treatments.
Price
$$
The price ranges from $300 to $1,400 per night, based on average rates.
Amenities 
With an all-inclusive program, guests receive 24-hour room service, free wi-fi, laundry services, and reservation-dining at more than six restaurants. Other amenities include babysitting services, full-service spa, separate children and adult swimming pools, hot tub, and rooms include flat-screen TVs with premium channels.
Things to Do 
Whether you decide to stay on Royalton property during your stay or explore the surrounding area, there will be plenty to do during your stay. At the resort, there are many sports and recreational activities, including age-appropriate activities involving games, cartoons, and a playground. For teenagers 13 to 17 years of age, there is a teen's lounge with video games, billiards, and table tennis.  Near Royalton, visitors can enjoy Kool Runnings Water Park, Hills Golf Course, Times Square Shopping Mall, and Rutland Point Craft Market.
Dining Options 
All-inclusive guests are able to enjoy reservation-free dining at multiple restaurants of their choice, including international cuisine, Hunter Steakhouse, West Indies cuisine, Tex-Mex cuisine, Teppanyaki, and Italian. WIth the addition of a special option, Chef's table (for an additional cost) where a personal chef takes you and your party through a seven-course journey, with a musical selection for each dish. There is also a sports bar and lounge for dedicated sports fans.
Audience 
This family resort offers many appealing features for both adults and children of all ages. This resort offers room types for different group types: suites, non-smoking rooms, and family rooms.
Pros
TVs included in rooms
Nightclub for late night entertainment
Private Chef's Table for the ultimate culinary experience
CONS
Complaints of slow check-in
Complaints of poor/slow room service
Non-Premier guests only allowed in certain areas, but allegations state that guests were not made aware of the rule
​Secrets Wild Orchid Montego Bay
With over a mile of private beach, Secrets Wild Orchid Montego Bay claims to provide "unlimited luxury." This all-inclusive program includes unlimited food and drinks, 24-hours room and concierge services, and access to Secrets St. James, providing seven additional restaurants, five bars, two pools, and a full-service spa.
Price
$
The price range for Secret Wild Orchid starts at $250 and climbs to over $1,500 for a presidential suite for one night, per person.
Amenities 
This beachfront resort offers a bar and lounge area, fitness center, casino and gambling, laundry services, wheelchair access, swimming pools and a hot tub, and a refrigerator in every room.
Things to Do 
The hotel offers water and land sports, cooking and dance classes, a golf course, and horse back riding. Water sports include water polo, pool volley ball, and scuba diving lessons. At the promenade, there are board games, restaurants, shops, a gaming lounge, and an open air-theater with live entertainment.
Dining Options 
The hotel provides two 24-hour cafes: Coco Cafe and the World Cafe. There are also a bar & grill, a buffet, and seven gourmet restaurants for guests to choose from during their stay.
Audience 
Secrets Wild Orchid is considered family-friendly with above average food and lively entertainment every night. Advertised as a five star resort, there is a lot to work on, common complaints suggest that, in general, staff is uncaring and the hotel rules are not enforced (i.e. no smoking) as you would expect from an up-scale establishment.
Pros
Small dog friendly (select rooms only)
Wait staff is reportedly very attentive and kind
Many food options for every palate type
CONS
Rooms closer to the pools will suffer from noise pollution until 11pm
Not all rooms have AC
Management staff is reportedly unattentive and hard-to-find
Although booked as "Preferred" guests, many found out that was not true
Conclusion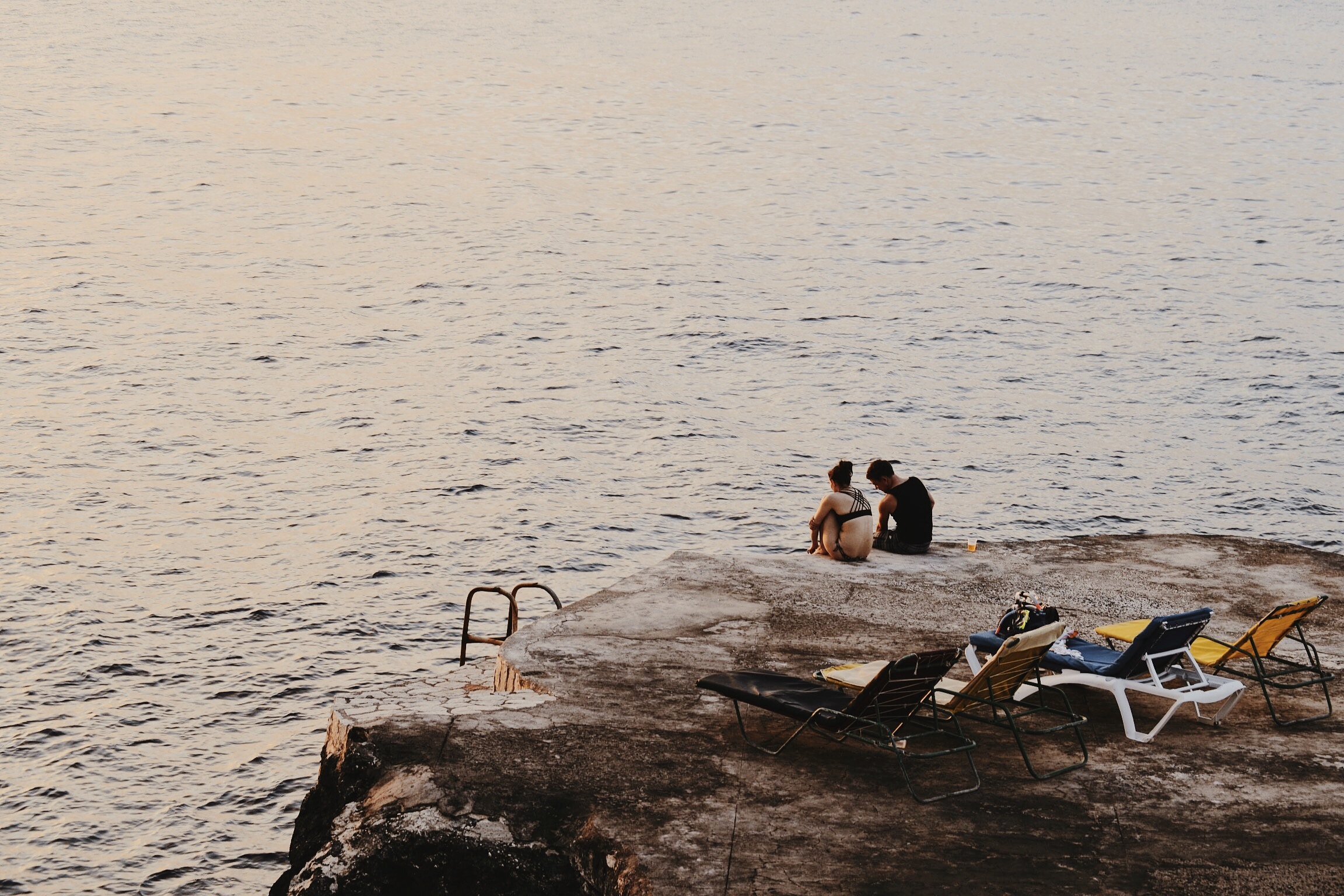 Image Source: Unsplash.com
Each of these resorts has its own appealing qualities. For the price range offered, we consider Round Hill to be the best choice with 4 out of 5 stars. With its wide range of indoor and outdoor activities, it's a good choice for groups with a wide array of interests.
If you're traveling with children, the Royalton, Round Hill, and Secret Wild Orchid have many opportunities to keep the entire family entertained. Although, at Secret Wild Orchid Montego Bay, guests have been known to get frustrated with their guest status downgrades and the attentiveness of the management and front desk staff.
The Caves Jamaica doesn't allow children, and while that can be an advantage for some, it is out of the question for families who want to enjoy a vacation together. While it is one of the most expensive resorts, it provides a limited capacity for ultimate privacy. The Caves Jamaica is ideal for a romantic getaway whether it's your honeymoon or your anniversary.
While some consider the extra money required for off-site tours activities worth it, there are other who felt cheated. Be sure to double check with your hotel about what is actually included in their "all-inclusive" packages, since some can be deceiving.
Featured Image Source: Unsplash.com