Rasta Pasta, it may sound a little funny, but is absolutely one of the best parts of Jamaican cuisine. Vacation season is almost upon us. You may be thinking of places to go, maybe tropical or a cruise or two; think Jamaica, it's warm, full of life and has beautiful places to explore. But most of all, people look forward to the flavorful local favorites and delicious beverages.
Food is essential for any vacation, and each destination you pick has a signature flavor. For the Jamaican experience, you'll find jerk seasoning in a lot of dishes. Rasta Pasta is one of them. It is creamy, spicy and decadent. Not to mention, it is extremely easy to make.
Simply put, Rasta Pasta is a dish made with jerk chicken, veggies, and penne noodles. Then you toss it in a spicy, creamy sauce to serve and enjoy. The jerk season really comes through while the thyme and peppers add a kick of flavor in each bite.
If you're in the Brooklyn, NY area, you can try Rasta Pasta — as it was meant to be — at a restaurant called Sugarcane. The menu has many delicious Jamaican and Caribbean dishes at reasonable prices.
Jamaica Recipes for the Home
Do you get that mouth-watering effect when you think about making food? Or maybe it happens when you're watching the Food Network, Cook channels on television. It makes you hungry, and crave the foods you see. What easier recipe to tackle than Rasta Pasta?
It's quick, easy and you likely have all the ingredients in your kitchen. For extra fun, make it a themed night. Maybe even throw a dinner party for friends and family. Reggae and calypso are big styles of music to browse through to make your night just right. Make it even more entertaining, and dress for the occasion. For an all-out party, consider decorations that remind you of Jamaica and the Caribbean.
Even if it's just for dinner, though, authentic Jamaican recipes are great to try before going on vacation. It gives you an idea of the flavors, and what you'll want to try once you've arrived at your destination. Whatever your reason for trying Jamaican food, we have great recipes for you.
Related: How to eat like a Rasta
Stamp and Go Recipe
Try an appetizer called Stamp and Go. This saltfish fritter is easy to make. It is usually served with breakfast or at cocktail hour. Stamp and Go is said to have gotten its name from an 18th-Century British navy officer. He would say he wanted something quick and said to shout 'stamp and go' as an order.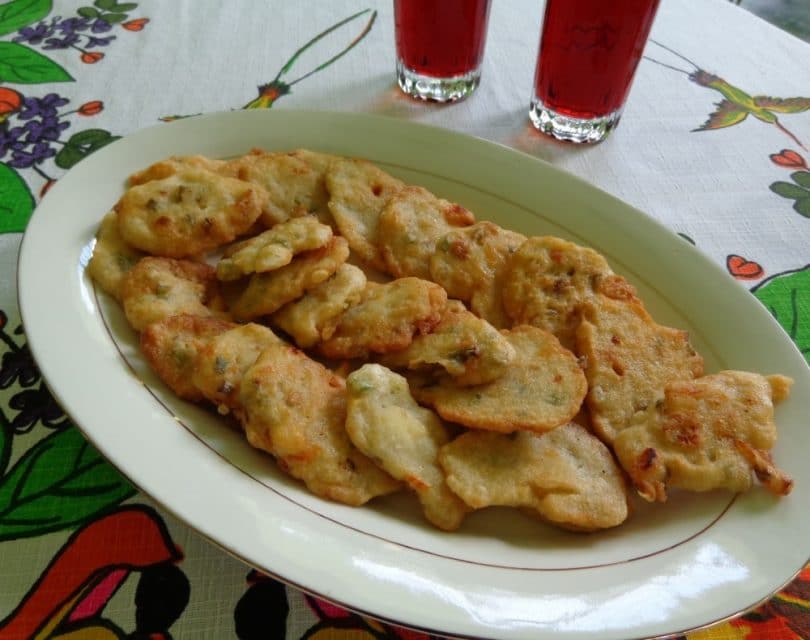 Ingredients
½ lb. (225 grams) Salted Codfish
4 cups All-Purpose Flour
2 tsp Salt
2 stalks Scallion (finely chopped)
1 Scotch Bonnet Pepper (finely chopped) or 1 tbsp. Jamaican hot pepper sauce
Ice-cold Water
Cooking Oil
Directions
Rinse fish under cold running water, then cover with water in a small bowl for 6-7 hours.
Remove skin, scales, and fins with a small sharp knife then flake.
In a medium bowl sift flour and add flaked fish, salt, scallion, pepper or pepper sauce and enough cold water to make a pourable batter.
Pour oil into a large skillet to about ½ inch (1 cm) and heat until little ripples form.  Drop batter by the tablespoonful into the oil. When browned on one side, turn over. Drain stamp and go on absorbent paper and serve hot.
This recipe makes 60 fritters.
 Let's Have a Drink!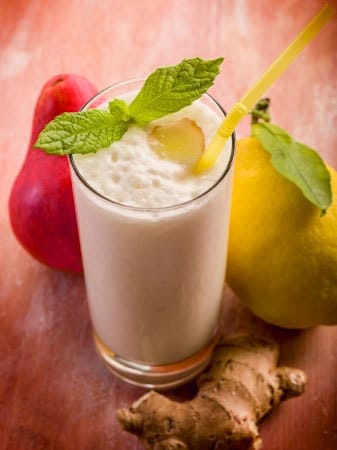 Let's not forget the drinks. Adults only, please! A popular drink to try is the Otaheite Apple drink.  This alcoholic beverage is mixed with apples, lime juice, and ginger. The Otaheite apple tree is grown in Jamaica and is readily available in the summer season.
 Ingredients:
Apples – washed and peeled
Ginger – peeled and chopped
Lime juice
Sugar or Splenda
Water
 Directions:
Remove the seeds from the apples and chop into small pieces.
Place all ingredients in a blender.
Blend until liquefied. Strain.
Pour into glass container and chill.
Serve over ice cubes.
This drink looks and sounds delicious! It is sure to be a hit of your party and one to try on vacation as well. There is an abundance of Jamaican recipes and Caribbean recipes all throughout Google. These two are just a notch in the Jamaican recipe corner of the internet.
How to Make Rasta Pasta
I'm sure that you are wondering how to surprise yourself, or family and friends with your new idea of Jamaican cuisine. Rasta Pasta is quick, easy and delicious! Let's get to making something from Jamaica that is sure to have you shouting "Yah mon!"
 Ingredients
1 lb chicken tenderloins
8 oz small shrimp, deveined
1 lb penne pasta
3 medium garlic cloves, minced
1 red bell pepper, sliced
1 green bell pepper, sliced
4-5 sprigs thyme leaves
1 yellow or orange pepper, sliced
1 large onion, thinly sliced
Oil for sauteing
 Chicken seasoning
2 heaping tbsp jerk seasoning
1/2 tsp salt
1 tbsp oil
dash of browning sauce
 Shrimp seasoning
1 tsp green seasoning
2 heaping tsp jerk seasoning
pinch salt
1 tsp oil
Milk mixture
2, 13.5oz cans coconut milk
1/2 tsp salt
2 tsp cajun seasoning
1/2 tsp jerk seasoning
3-4 sprigs thyme leaves
Instructions
Wash and clean chicken and shrimp. Season and place in separate Ziploc bags. Leave to marinate a few hours or overnight.
Boil pasta according to box directions. Drain, drizzle oil and toss to coat. Cover pasta while the remainder of the meal cooks.
Chop onion, garlic, peppers, set aside.
Add coconut milk to a small pot. Add salt, cajun seasoning, jerk seasoning and thyme leaves. Simmer on low heat for a few minutes, then remove from heat.
Cook chicken and shrimp. Shrimp will cook within 2-3 minutes. In a separate frying pan, pan sear chicken until brown and cooked through. Remove from pan, let it rest then chop, set aside.
Saute onions garlic, thyme leaves, and peppers in oil until fragrant. Add chicken and shrimp. Toss together. Pour milk mixture over meat and peppers. Let simmer 2-3 minutes until coconut milk looks slightly thick. Add the pasta, toss to coat. Adjust salt to suit your taste.
Rasta Pasta is sure to make any pasta lover salivate. Bring the taste of the Caribbean to your table with this spicy, creamy and tasty. For a more vegetarian-friendly recipe, check out Rasta Pasta (Caribbean Vegan) from Veggies Save the Day.
Rasta Pasta for the Win
However you decide to make this Jamaican recipe, Rasta Pasta is sure to be a hit. Bring the taste of the islands right to your table. After booking a Jamaican experience vacation, make it a top priority to try authentic Rasta Pasta. Does it compare to how you made it at home? Go enjoy the sun and drinks, but don't forget the Rasta Pasta. If you are more of a visual learner, we found a great video to follow. Check it out below.
Featured Image via screenshot via YouTube video Rasta Pasta Homemade