Usain "St. Leo" Bolt, named to Perfection.
It's simply amazing to watch someone grow up and become super successful. No one could  have known, a young youth walking around Trelawny would become a nine time Olympic gold medal winner. Well, Usain 'St. Leo' Bolt had what it takes to be a world record holder in track and field. How much of a 'Big Deal' is Usain Bolt to Jamaica you ask? He was born on August 21, 1986. Bolt's personal story, tells that he came from humble beginnings.
Magical Success
Usain's success has been nothing short of magical. His life story is heading for Hollywood. As a boy, he showed promise in athletics but so do many other children. Track and field is the cheapest and easiest sports to get into. Many children in Jamaica grew-up running track. Especially when our parents send us to the store, we had to become track stars. Each trip to the store was done in world record time.
Path to Stardom
Funny enough, looking back on Usain's path, it was reported that he ran bare-footed for William Knibb Memorial High School. This was done at an annual ISSA/Boys and Girls Athletic Championships inside the National Stadium. Seems like that should have made him special, but one of the things that made him special was his determination. While running bare-feet maybe amicable in advance countries, it's not for developing countries.
In addition, many young athletes in poor Caribbean countries run track, play football (soccer) and cricket bare-feet. So, that did not give Bolt an edge to have a chip on his shoulder. Nor did he have a chip on his shoulder against his fellow Jamaicans for being under-privilege. In many cases that was the norm and he was still doing better than others. In fact, he did not grow up feeling poor because many people around him had equal struggles.
Determination
What Bolt had was the gift of athleticism and the will to win. He had self determination. Because he came from a land of pilgrim and knowing there were opportunities for plenty; all he had to do was dare to believe he could succeed. To get to the land of plenty, he had to render his service before he could collect. Usain had to practice hard while doing it with a positive mental attitude. It's dreaming along the way, seeing you crossing the finish line and winning gold.
Some how you can't help but to think, maybe in the back wood country of Trelawney, Bolt was beating his chest in a winning way. One of the great things about the sport of track and field is that it offers a level playing field as they say, "No pun intended." No one from the economic elites could influence the outcome. The key for Bolt to move from the "Poor Door" (A term used mostly in NYC, when builders are required to rent 20% of their building to low income tenant and the builders design a separate entrance door for the poor), to the main door lies in his hands or his feet in this case.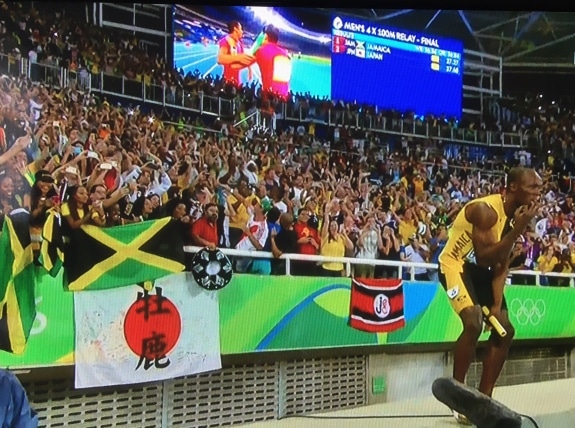 What's Unique about winning an Olympic Gold Medal?
The thrill, the excitement of winning an Olympic gold medal is special. It gives you a sense of pride, a sense of inclusion in the Olympic fraternity. It's knowing you are doing it for you, your family and your country. An Olympic medal is for keeps, no one can ever take it away. He won his first Olympic gold medal eight years ago in 2008. Since then, he has been at the top of his sport for over ten years.
Mr. Bolt has become a predictable winner and people expect nothing less. And when it comes to the world stage, Bolt's lights shine the brightest with his winning ways. However, the journey has not always been easy, he had to recover from a reported car accident, hamstring injuries, and then there was the camera man who ran him over. But looking back, Bolt has had and is having an incredible athletic career. He holds the World Record in the 100 and 200 meter event. In doing so, he topped a speed past 27-miles per hour.
Immortal Status
Bolt's career has reached immortal status after winning his ninth Olympic gold medals in Rio de Janeiro Brazil in 2016. He accomplished the so call Triple-triple of 9 gold medals in nine tries in the Olympics. Usain has no idea what it feels like to run second, third or God forbid 4th in an Olympic race. Mr. Lightning Bolt, the man with the perfect name for his sport, has dominated the marquee sprint competition for the past eight years. Bolt's 9 gold medal win, ties him with Paavo Nurmi of Finland and Carl Lewis of USA for the most gold medals in track and field history.
Usain Bolt is the only track and field athlete to win gold medals in the 100m, 200m and 4X100m relay race at three consecutive Olympics. He did it in 2008 in Beijing, 2012 in London and 2016 in Rio de Janeiro. As Usain 'Lightning' Bolt was crossing the finish line and winning his third consecutive 100m gold medal in 9.81 seconds, 60,000 plus people were screaming, "Usain Bolt, Usain Bolt, Usain Bolt".
La Vida Loca
We can only imagine the chanting of his name will carry a life time of memories. Just envision his parents Wellesley and Jennifer there to witness the love. Usain was living "La Vida Loca" in Rio de Janeiro. The universal love or "One Love" as they say in Jamaica. It was perfection and his universe was aligned in perfect harmony. His charismatic charm and personality had inspired him to greatness. This was the Bolt who told fellow Jamaican teammate Yohan Blake that, "…the 200m race…that's my pet event" but his results in all his races were like they were all pets.
Athletic Dominance
Bolt's pleasurable personality and his athletic dominance has made him into a magnetic presence. His global influence highlighted his qualities to reach a global market. As such, he's attracting U.S.  Brands to the point where Bolt was included in U.S based ads alongside members of Team USA during the Rio Olympics. Those advertisings were usually exclusively given to the said country's athletes. In pass Olympics, USA TV Network would focus their attention on Team USA and minimized the attention given to other countries. However, with Bolt's legendary status, NBC TV Network did a special Broadcast on Usain. As one USA track & field spokesperson alluded, "Bolt has been fantastic for the entertainment value of the sports."
Bolt reached immortal status after kicking down the last door. Mr. Lightning Bolt is now at the pinnacle of his career. He has conquered Olympics track and field greatness in an historic fashion. His Olympic record may stand the test of time. Most noteworthy, Bolt elevator had arrived in the penthouse coming from the outhouse of rural Jamaica. The celebration started in Jamaica and just waiting for Bolt to return to the island and join the party.
Big Deal
As Usain says, "In Jamaica, I'm a big deal". Bolt certainly is, he has jolted the island of Jamaica in a big way. These days he's the topic of social media and casual conversations. As a result, the debates have started about who is the most famous Jamaican. Because of Bolt will to win, he's now been discuss in the same sentence as Reggae Legend Bob Marley. But for Usain, he finds it very humbling to be mentioned in the same conversation with Bob.
After gigantic victories in Brazil, Bolt was honored to know that of all the fastest times recorded in 100m races, 19 of the 26 were by Jamaicans. To put things in prospective of what he means to the tiny island of Jamaica is indescribable. He was voted the number one athlete of the "25 Greatest Athletes from Jamaica" of all time.
Usain Bolt's Net Worth
The demand for Usain Bolt services puts him in a class by himself in the advertising market when it comes to track and field. He's the highest money earner in the history of track and field athletes. He earns about 10 times more than anyone else in his sport. Bolt's earning comes in the way of appearances, sponsors, and prize money. When coupled with an Olympic year and his winning performances, Bolt's stock is soaring. He earned $32.5 million over the last year since 2015. In addition, he currently stands at number 32 among the world's highest-paid athletes.
Power of Success
Usain's power of success has brought him business dealing with companies such as Puma, where he will earn north of $10 million dollars each year until 2025 according to Forbes Magazine. He has deals with Nissan, Japan's All Nippon Airways, Virgin Media, and Hublot. Then there is his equity stake in Enertor, where he is the face of the business. This company sells shoe insoles. Bolt advertise for Australian Telecom Company Optus as well.
Gatorade named a drink after him andhe has his own character in the Temple Run Game franchise. On the business end he has trademarked the "Lightning Bolt" pose and even has his own emoji. Bolt has an online store where he sells Usain Bolt branded gears and sporting goods! He launched his company "Champion Shave" with discounted price 6-blade razors. Usain Bolt net worth is north of $71 millions according to Money Nation.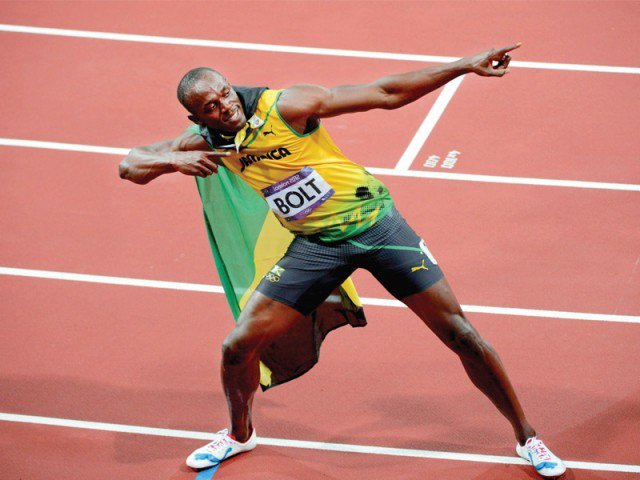 Track and Field in Jamaica can be traced back almost a century. Below are two of Jamaica's most decorated runners. 
King of the Hill
Mr. Bolt who just turned 30 in 2017 is on top. He's King of the hill. Usain turned an ordinary life into an extraordinary money maker. A country man from the Parish of Trelawny will go down in history as one of the greatest track & field athlete ever. Bolt, the global sensation has reached immortal status as he finished up a brilliant career.  Bolt said he's happy with his earnings. He said, "I never knew that I would make so much money." This was following RJR Foundation Sportsman of the Year Award this year.
Athlete of the year
This award is given to Jamaica's best athlete of the year and Bolt was on his way to winning his 6th award. Bolt plan is to retire after the 2017 World Championships in London. He will join the ranks of some of the most celebrated athletes around the world. The exciting confidence Bolt brought to the table will surely be miss. As soccer legend Pele says, "In the world, it will be very hard to find one like him."  Forbes Staff Writer Kurt BadenHausen says, "Enjoy it while it last. We might never see anything like the Bolt phenomenon again."
How Bolt Help his Jamaican People.
The sprinter put his money where his mouth is by continuously helping his Jamaican people. As recently as this year 2016, Bolt announces that company who are looking to do photo shoot with him should look to do them in Jamaica. That's a salute to Bolt and his business team in balancing power with demands. Over the years, he has brought ad campaign commercials to Jamaica which resulted in putting people to work. 
According to Bolt, "…They'll do the shoot here, unless they don't have the equipment." He's helping the Jamaican economy by brining jobs to Jamaica. Bolt went on to say, "I've helped a lot of people and they would always thank me "… Big up Usain, you really helped us, bringing the jobs here." Bolt brings jobs to Jamaica and that's why he's a "Big Deal" in Jamaica. 
Charity starts at Home for Usain Bolt
Lightening Bolt Charity Foundation has donated millions of dollars to schools in Jamaica.  Bolt gave $1.3 million to his former high school along with cricket and football (soccer) equipments in 2015. Since signing with Puma in 2002, he has given track and field equipment to the school. The foundation helps younger children which is the core of building Jamaica's infrastructure. He has partnered with Samsung in bringing photography workshops to student.
He has raised funds to help with cardiac surgeries for pediatric. Then there was the $4 million dollar renovation to a health center. He paid for that project using proceed he raised from a party celebrating his 100m world record. He also opened a multi-sport field. Even though charity starts at home for Usain, which did not stop him from donating $10 million dollars to Haiti to help rebuild some homes after Hurricane Matthew destroyed many parts of the country. 
Ambassador
Athletes tend to be the country's best Ambassadors and Usain Bolt has lived up to the bill. This gifted athlete has magnificently managed to capture the love of millions if not billions of people around the world. The inspirational effect that Usain Bolt has received from so many people is truly humbling. It admirably when you hear middle distant runner Sebastian Coe say, "I can't think of another athlete since Muhammad Ali who capture the public imagination like Usain Bolt" AJE (A Jamaica Experience) have asked many Jamaicans about that statement and the response have been overwhelm and equally humble about the comparison. We can just imagine how honored Usain is to hear those kind words.