Jamaica Stock Market
Jamaica Stock Exchange (JSE) has been incorporated since 1968. They started trading in February 1969. JSE is located in downtown Kingston at 40 Harbour Street, Kingston Jamaica. In 2018, JSE celebrated 50th Year as a stock exchange.  
The various Securities Trading at JSE includes:
Securities                                                                                                                                                                              Ordinary Common Shares                                                                                                                                                   Preference Shares                                                                                                                                                             Preference Share                                                                                                                                                                 Corporate Bonds
Stocks Trading
Visit JSE to learn more about the individual stocks/equities trading on the market. There were 57 stocks traded in both the Main and Junior Stock Markets in Jamaica in 2015. Year-end results show that earnings have exceeded 10 percent or more in twenty-nine of the stocks traded in both markets. Today in 2019, their stocks have doubled in four years and now they are trading 120 stocks.
For folks who are interested in learning more about investing in Jamaica and understanding the opportunities, the timing could not be better. The brokers/traders at the Jamaica Stock Exchange will be happy to provide more information about companies listed on JSE. The information includes prospectus on stock performance over a period of time and or since the inception of the individual stocks and funds.
Junior Stock Market
The Junior Stock Market is no beginner or any less important as its name can imply. In this case the Jamaica Stock Exchange, Junior Stock Market is comprised of small and medium cap companies. The equities traded are made up of small size and medium-size companies. Historically, small and medium-size companies stocks pay a higher return. The trade-off is that the market is much riskier of investment and your portfolio can be wiped out if these companies do not survive.
It's always important before investing in any company to do your proper research. Get to know the leadership team. Read the company's prospectus reporting and understand its past performance. The company's prospectus is a legal document. It was designed to provide full disclosure to the public to invest in the company. As a result, companies are required to file this information with the SEC (Securities and Exchange Commission). There you will be able to learn about the market valuation and market cap of the company.
Market Index
Jamaica Stock Exchange Market Index is traded in the U.S. stock market on the Bloomberg Market under the symbol: JMSMX. If you're just looking to diversify your current portfolio, JMSMX is a well-represented fund to consider. The portfolio has been performing extremely well. So even though, past performance does not guarantee future results. According to the General Manager of the Jamaica Stock Exchange Ms. Marlene Street-Forrest, "If you had invested in the securities of the exchange in the last 10 years, your ROI (Return on Investment) would have been 520%." That typed of skyrocketed gains in the market when invested properly is enough to outright retire pronto and live the life of luxury.    
This gain was over a ten-year projection but as the Managing Director states Jamaica is poised for growth. Ms. Street-Forrest is convinced the market can sustain its growth. She based her opinion on the pipeline of companies that said they will list their companies on the exchange. In addition to the upwards trend, her future optimistic is shining bright.   
Market Capitalization
JSE market capitalization is 14 Billion Dollars which is quite large for a market the size of Jamaica. As you think about taking advantage of this emerging market, do remember investing 101 says, "It's not timing the market, its time in the market."
 Researchers have found that index fund portfolios have outperformed comparable managed portfolios most of the time. Historical data shows the longer investors hold their investments, the greater the opportunity for a better ROI. When you invest in buying stocks, you are buying on growth expectations of future performance.
Individual companies that makeup JMSMX can be researched separately to determine performances as well as the index performance. Just like a mutual fund, an index fund is made up of selected companies suitable for the fund.
 Whether you are a savvy investor or someone who is looking to park your money in an investment vehicle for your retirement, consider investing in Jamaica Securities and Jamaica Stock Market.
"Its Jammin', Jamaican Stock Market Sours
Early in 2012, an article was published in the Jamaica Gleaner Newspaper which gave a great explanation on Stock Market Trading. At the closing of the 2015 New York Stock Exchange, there was an article written in the Bloomberg Business Report and Bloomberg Market. The article was titled: "Its Jammin', Jamaican Stock Market Conquers World in 2015." The report written by Bloomberg writer Ezra Fieser stated that The Jamaican Stock Market had a better year than any other market across the globe. Mr. Fieser went on to say, "Foreign acquisitions, stronger investor safeguards, and a rebounding economy helped the Jamaica Stock Exchange surge more than 80 percent in 2015." The chart below courtesy of Bloomberg Business.
While Jamaica Stock Exchange Surged, well-known markets such as the Dow Jones Industrial Average in the USA had a 1% declined.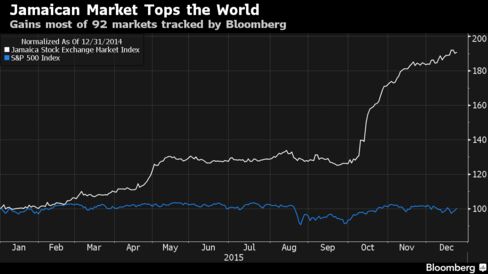 Growth chart for Jamaica Stock Exchange
World Best Performing Stock Market
Once again in 2018, the Jamaica Stock Exchange outperformed all the other stock exchanges. JSE was recognized as the "World Best Performing Stock Market." in 2018. Part of the Exchange success is due in part to their Operating Procedures. The marking is open three and a half hours per day. This is the window where the trading takes place in Buying & Selling. Right now, there are no Jamaican Stocks listed in the US Stock exchange. 
In 2018, of the 94 Index Benchmark tracked by Bloomberg, the JSE main index rose the highest. This gain was at a whopping 29 percent gain in US dollars. It gets better, over the past five years, the stocks have surged almost 300 percent. In addition to the market outperforming other Exchange during this period, the World Bank ranked Jamaica as the sixth best place to start a business with ease. Economist Uma Ramakrishnan Jamaican Mission Chief from the IMF said, "If I could hold a megaphone and tell investors now's the time, I'd do it,"
JSE Ranked 60th World Wide
Currently, the JSE ranked 60th World Wide in 2019 and the stocks are performing well. Jamaica has a market capitalization of over $5 Billion. Although the Indexes had two successive years of down trending in 2013 and 2014 of 13% and 5% respectively, indicators remain bright. Which resulted in an above-average performance in 2015? According to Vice President Carl Bennett of Bank of New York Mellon Investor Relations, he said, "I'm impressed with what they've done to attract capital to the market."
The Jamaican Stock Market heads realized that it could no longer do business as usual if they expected to attract overseas investors. For starters, they have built out an "Online Trading Platform." Even though you will still need to go through a broker, you will be able to research the equities that are trading on the market. You then formulate your opinion on whether to buy or sell. Also, investors can track their accounts by login into Jamaica Central Security Depository. There you can check your account balances and check how your investments are doing. This new accessibility to go online and check your account will provide investors with more confidence in the market.  
Jamaica Social Stock Exchange 
Therefore, they have made changes by taken positive measures to stop insider trading and market manipulation.Jamaica remains obligated to the IMF (International Monetary Fund) and there new 2013 finance restructuring lending demands. So, even though Jamaica continues to struggle with high borrowed debts, the growth of the country's economy has positioned the JSE as an "Emerging Market." Investment in JSE continues to soar. The Jamaica Stock Exchange Group's had well over 1,658% growth in 2015. During the past 12 months with the fiscal year ending in September, they saw a profit of $1.2 million. Other winners included Pulse Investments Ltd and Caribbean Cement Co. They reported profits of 557% and 969% respectively.
 Invest in Brand Jamaica
Jamaica Stock Exchange General Manager Marlene Street-Forrest, who is trying to encourage folks to invest in Brand Jamaica says, "It's an emerging market and the fact is that you want to be in on the ground when we are growing." As the market continues to strive in 2019, Ms. Street-Forrest wanted to stress, "Transparency, Integrity, Efficiency". She understands that for folks to feel comfortable investing their hard earn monies there must be a mechanism in place to protect them. People need to have comfort in where they are putting their money and what they will get for their investment.  
To ensure transparency and efficiency according to the Managing Director Ms. Marlene several checks and balances have been put in place. Investors can look at the JSE as an avenue for wealth creation. There are 120 securities listed on the market as of November 2019. There are four markets, the Main Market of the exchange, The USD Nominated market, the Junior Market and the Bonds Market.
Market Regulated
Regardless of the market, you invest in, one thing for certain is that all the markets are well regulated. JSE is regulated by the Financial Service Commission and they are self-regulated. The Exchange is demutualized. They separate their commercial services from their regulated services so there is no commingling. All companies list on the exchange is regulated by the Jamaica Stock Exchange. In doing so, each company must submit Audited financials, quarterly financials and if they are other information about the company they must submit that as well.     
Ms. Marlene Street-Forrest explaining to potential investors that whether they invest in companies listed on the NYSE or NASDAQ, the regulated framework is the same as the Jamaica Stock exchange. JSE is a member of the association of the World Federation stock exchanges. She went on to say that, "we incorporate the best in class in terms of managing the exchange."The JSE will be migrating to the Nasdaq platform.  
Ms. Marlene explained that they are a group of companies which includes, The Jamaica Stock Exchange, The Jamaica Central Security Depository and Jamaica Central Security Depository Trustee Services.
Jamaica Social Stock Exchange
Recently the Jamaica Social Stock Exchange was launch. This JSS Exchange will be committed as a social enterprise to serve the need for social projects. The contribution/donation to this project will be geared towards some social projects. The programs include Choose Life, Praise Jamaica, AIR (Agency for Inner-City Renewal), etc, are designed to directly impact the lives of Jamaicans positively. These projects are designed to assist with the social aspect of Jamaica.
Ms. Street-Forrest believes that by contributing to this project, it will help to boost the financial aspect of Jamaica. She further explained that this program will follow the same regulated framework as they follow at JSE. This will ensure the accountability of the funds while providing a better opportunity for the needy. Persons are encouraged to take a close look at these projects.
The ultimate goal would be for persons to embrace these initiatives and work together as they tweak and grow. They should be able to see some tangible results based on the success of the program. Each program should be able to measure its accomplishments based on economics and social results. Like anything else, everyone does not embrace this program. Some persons can't get past the word social. They have an issue with socialism and just don't support anything along that line.
Register with a Brokerage Firm
To start trading in the Jamaica Stock Exchange, persons can look to register with a brokerage firm in Jamaica. Even with having an Online Account, one must still register with a brokerage firm. Two firms that immediately come to mine are Victoria Mutual Wealth and Barita.  Manager Vanessa Williams-Lawrence at Barita and Manager Denise Marshall-Miller of VM Wealth are a great start.
Online Trading
Now that the Caribbean's first online trading platform has been launched, local and overseas investors will have easier access to invest in Jamaica. To invest in Jamaica Stock Market online, the first step would be to open an account with one of the Jamaican brokerage houses. Of course, stockbroker charges a commission but that's the price of doing business.
Even when you are a savvy investor and you do all your research, "And you should", you still must go through a brokerage firm. Your Brokerage firm can help you to realize your investment tolerance. They can point out what stock and or funds are age-appropriate. While they cannot and will not tell you what to do or invest in, they can help to educate you. Knowledge is power and knowledge will enable you to make a better decision in your investment.
Your broker will register the stock holdings with the Jamaica Central Securities Depository. Be practical with your investment and know your risk tolerance level. It's great to have high expectations but they should be realistic. Overexposure in any individual stock can be costly. A well-diversified portfolio is a less risky strategy in investment. The unwritten rule of investment is like gambling, never investment any money you can't afford to lose. 
Future in The Market
As Jamaica Stock Exchange looks towards the next fifty years, the future seems bright. Managing Director Marlene Street-Forrest has great vision and a framework on how she would like to get there. As she makes her way around the USA promoting her vision, she's encouraging everyone to take a hard look. She reminds us to be a part of the movement as they take their upswing stock exchange to the NASDAQ Market.