Jamaican beef patties are popular flaky pastries commonly filled with a combination of seasoned ground beef, onions, garlic, and spices. They represent the rich cultural and historical significance of Jamaica through the combination of various ingredients and techniques. The patty is shaped like a half-moon. Often tinted yellow from turmeric or egg yolk and featuring a spicy curried beef. The pastries are traditionally served with coco bread and considered a full meal. Beef patties are easy to make at home. You only need a few ingredients and cook time is minimal. However, they can also be easily found at Jamaican grocery stores, restaurants and many supermarkets and outlet chain stores. Patties are sold in smaller cocktail sizes which many times serve perfect as an appetizers snack.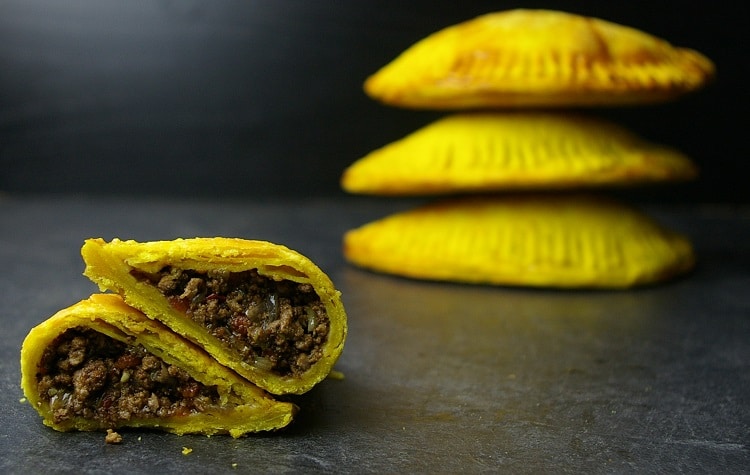 The Rich History of the Jamaican Beef Patties
The exact origin of Jamaican beef patties is unclear. Nevertheless, colonialism, slavery, and migration
are its historical roots. The original source of patties in Jamaica has been linked to pastry coming from the English heritage. The patty's shape mirrors that of turnovers introduced by European colonists. However, Indian indentured servants introduced the cumin and other curry power components that flavor the meat filling. The cayenne pepper is most likely attributable to African slaves, and the scotch bonnet pepper is native to Jamaica.
In the 1960s and '70s, Jamaican immigrants brought the beef mixture patties to many major U.S. and European metropolitan areas. The pastries quickly gained popularity within the mainstream public. Today, you can find a variety of inexpensive premade or frozen patties in most typical grocery or convenience stores. In Jamaica, the most popular premade varieties are made by Juici Patties and Tastee Patties.
Major suppliers of patties In the United States
In the United States, some of the major suppliers of patties include Tower Isles Patties, Golden Krust Bakery and Royal Caribbean Bakery. These beef patty companies are multi-million dollar business. These well-liked patty brands has reinvented themselves over the years since the 1970s. Initially, they all started out making and selling beef patties to customers mainly from Jamaica and the Caribbean. Well, once the word got out or should I say once the taste got out the companies market has expanded to every culture in every generation.
The well seasoned ground beef, beef patties have become much loved in America. It is now talked about in the same conversation as a slice of pizza, a hamburger or a hotdog. With the popularity of the memorable spicy filling, flaky crust patties, companies have introduced more choices. Now you can have a chicken patty if you are not a fan of beef. In addition with a growing vegetarian population and the desire to broaden their market place, vegetable patties has become extremely popular.
While the companies are willing to strengthen their market, they are not ready to sacrifice on what got them here. When customers buy a patty, whether it's beef, shrimp, chicken, callaloo, or vegetable, they are expecting it to be, nicely seasons and posses freshness in taste. Beef patties are sold in two flavors. There is the spicy flavor which as the name says, hot and peppery. Then there is the mild which is less spicy but just as good. However, whether you choose spicy or mild patties, the customers of Jamaican patties are not willing to sacrifice the great seasoning and freshness. To simply put, the lovers of real authentic Jamaican Beef Patties are expecting quality over quantity. They want the same taste they have come to love and trust.
Cocktail Patties
As the demand for patties grew, so has the creative thinking to meet the demand. A big market which opened up for patties came in the form of appetizers snacks and the creation of cocktail patties. These patties taste the same, look the same with one exception, now they are made about one third the size of a regular patty. Cocktail Patties has become a party favorite. Once you have the miniature patties at your party they don't seems to last. The great thing is that cocktail patties are reasonable price per dozen and everyone seems to love them.
Frozen Patties
With the expansion of the beef patty customer base market, it seems inevitable that it was only a matter of time before they surface in the frozen food category. Now everyone has the opportunity to buy their beef patties in bulk and eat them at their own pleasurable leisure. Oh it's ten o'clock at night and I feel for a beef patty no problem, I have some in the freezer. It's ten o'clock in the morning and I don't feel like going to the store for a beef patty, no worries, we got some.
Surprisingly enough, when the patty is warmed up in a toaster oven or conventional oven, it tastes just as great as when they are purchase from the bakery.
National Jamaican Patty Day
What's also intriguing is that there is a "National Jamaican Patty Day." National Jamaican Patty Day is celebrated in the United States, in Bronx in New York City. Patties have increase in demand around the world due in part to its great tasting. As a result of the increase in global exposure, traditional beef patty recipes have evolved to include many different variations of patties. These days, you can find vegetarian and vegan renditions of the popular patties.
How to Prepare Jamaican Beef Patties at Home
Crust and filling are the two components of traditional Jamaican beef patties. Consequently, you will start by making your crust dough, and then you will cook the beef filling. After you complete both steps and the filling has cooled, you will assemble the ingredients and bake the finished pastries. When adding spices and other flavor agents to the filling, add gradually and taste to accommodate your own preferences. For a milder version, omit the scotch bonnet and cayenne peppers.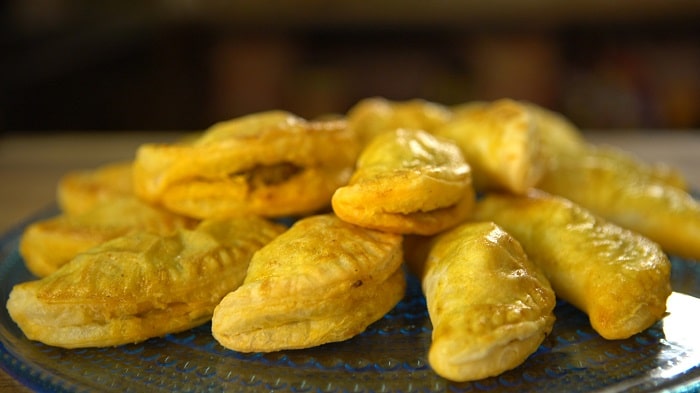 Ingredients
2 cups all-purpose flour.
2 tablespoons curry powder.
1 egg.
1 teaspoon salt.
1/4 tablespoon turmeric.
1 pound ground beef.
1 teaspoon cayenne pepper.
2 tablespoons of butter.
1 chopped onion.
2 tablespoons crushed garlic.
1/4 cup of butter or margarine.
1/4 cup shortening.
1/3 cup water.
1 teaspoon ground black pepper.
1 cup beef broth.
2/3 bread crumbs.
1 teaspoon dried thyme.
1 scotch bonnet pepper.
Crust Steps
Combine flour, salt, turmeric, and curry powder in a medium mixing bowl.
Add shortening and butter.
Mix to combine.
In a separate bowl, combine egg and water.
Combine the wet and dry ingredients.
Mix until a solid dough forms.
Form the dough into a ball or log.
Place the dough in the refrigerator to chill.
Filling Steps
Heat remaining butter in a large saucepan.
Add diced onions, chopped scotch bonnet pepper, and garlic.
Saute on medium heat until onion becomes transparent.
Add ground beef, beef broth, salt, black pepper, cayenne pepper, and thyme.
Lower heat and let simmer until meat is fully cooked (about 20 minutes).
Let filling cool and drain any remaining liquid.
Assembling and Cooking Steps
Divide dough into golfball sized portions.
Roll out portions until 1 cm in thickness.
Cut out circles.
Spoon meat filling onto one side of circle.
Fold in half and press a fork along the sides to seal.
Continue until all dough and filling are used up.
Place in a single layer on baking sheet and cook in preheated oven till the pastries begin to brown (about 20 minutes).
Not a fan of cooking? Get Authentic Beef Patties Here:
[amazon box="B07GT6N2Y7″] [amazon box="B00F3KP7SW"]
Where Can You Try the Jamaican Beef Patties?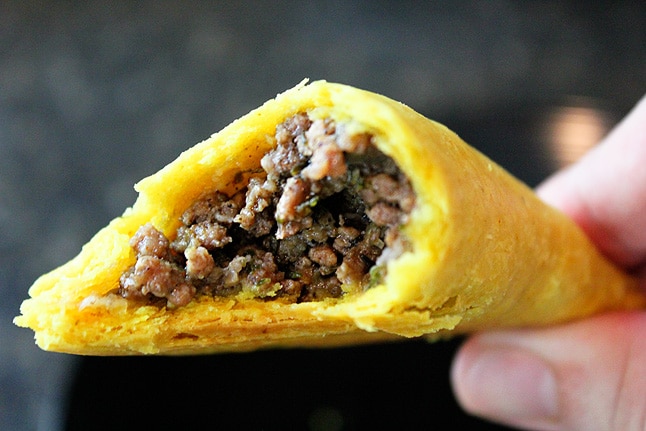 Consider trying a Jamaican beef patty at a restaurant near you. Your best bet is to visit a city with a large West Indian population. What's more, fresh, restaurant quality patties aren't expensive and offer a more genuine taste profile. For those in the New York metropolitan area, Kingston Tropical is a family-run operation in the Bronx that offers a popular variety for just under-two dollars. There is Champion Bakery & Patty King on White Plains Road for patties. Overall, there are many Jamaican beef patty stories located all over the Bronx.
The biggest distributor of beef patties is located in the Bronx New York. They are Golden Krust Caribbean Restaurant. Golden Krust is owned and started by Jamaican immigrants in 1989 in the Bronx New York. Over the years they became so successful that by 1996 they had 17 restaurants. Because of their success, they were heartened in becoming a franchise. As a result, they became the first Caribbean business to be granted a franchise in the US. In 1998, the company baked and distributed over 25 million patties. This was accomplished using an assembly line model at their warehouse to produce that volume of patties. It is then distributed to supermarkets in over thirty states and the franchises.
The Success Story of Jamaican Beef Patties?
Today, Golden Krust has over one hundred and twenty plus store operating in ten different states in these United States. The company has gone on to opening franchise Canada. The success of Golden Krust has far exceeded Jamaicans at large public opinion and expectations in the Diaspora. However, as a country Brand Jamaica has been exceeding possibilities in reaching new heights for years.
Now persons can enjoy the great authentic taste of Jamaican beef patties around the USA. So, whether they are living in Connecticut, Georgia, New York, Maryland, New Jersey, North Carolina, Florida or Texas, the great taste of Jamaica patties maybe only minutes away. To help keep their competition at bay, the company offers nine varieties of Jamaican Style patties which they distribute to their many stores and supermarkets. In terms of volume in sales, Golden Krust probably archived their largest quantities in sales of patties by supplying Costco Warehouse stores and Dollar Tree franchise convenient stores.
Even though these large outlet stores mainly or only distribute chicken and beef patties that we are aware of; to the large outlet stores, they still makes nine varieties of patties. The varieties of patties includes beef, beef spicy, vegetable, cheese patty, soy patty, oxtail, curried goat, brown stew and chicken patty. The other flavors are distributed to local stores and some supermarkets.  All these wonderful tasting patties are complemented with"coco bread".  Coco bread would be described or closely related to a hamburger bun. The patty is place between the buns to create a sandwich.
Golden Krust Caribbean Bakery immediate competitors in the US are Tower Isles Frozen Foods and Caribbean Food Delights an affiliate of Royal Caribbean Bakery. Tower Isles is located in Brooklyn New York while Caribbean Food Delights corporate headquarters of 103,000 square foot space in Rockland County NY. These major players sporting the strong brand, the brand the World have developed a devoted love relationship with, "Bran Jamaica". Brand Jamaica has become a household name people love and trust.
Largest Customer Base?
Together, these companies are competing for market shares in reaching the largest customer base. Yet, individually, they are baking and distributing large volumes of patties per day. Take for instance Caribbean Food Delights who is celebrating over 40+ years in business. With that space capacity, Caribbean Food Delight has the capability to produce, to bake over "Forty Thousand" beef patties per day. These patties are then distributed both fresh and frozen. The business continues to grow as the company founded in 1983 by Jamaican Immigrants Vincent and Jeanette HoSang turns the rains over to their daughter, now CEO Sabrina HoSang Jordan.
Tower Isles, was founded in Brooklyn New York, in 1968 by Beryl and Earl Levi. The Levi's started a small family bakery. As time went on, the business grew and they were able to introduce patties on a bigger scale to a wider audience in the US. Today they are recognized as one of the largest patty makers and distributors in the world.
If you're lucky enough to visit Jamaica, the main two brands to look out for is Tastee Patties and Juici Patties. Tastee Patties have been around for more than 50 years. Juici Patties open its first store in May Penn, Clarendon in 1980. Some persons may say Tastee offers a more flaky authentic crust and well seasoning over Juici Patty. But it turns out that the Juici Patty lovers have the same description when asked which one is their favorite?  For me, both companies beef patties are unique in taste while keeping that authentic taste you expect from Jamaican patties. You can visit a Juici Patty store in Jamaica. They have a store in all 14 Parishes. One thing everyone will agree on is that patty and coco bread is still one of the best and cheapest meals you eat in anywhere it's sold.
Island Flavor, Beef Patties
Jamaican beef patties are an inexpensive, filling, and will satisfy your craving for Jamaican or Caribbean food. The handful of ingredients exposes the complicated past of Jamaica, from the influence of European colonists to the presence of African slaves and East Indian indentured servants. Furthermore, they have taken on a life of their own through the immigration of Jamaicans abroad. If you're traveling to Jamaica, don't leave the island without stopping at one of the island's popular patty joints. Nonetheless, if you don't have the luxury of travel, it is easy enough to make them in a home kitchen.
Have you recently visited tried Jamaican beef patties for the first time or stumbled upon an excellent version? Let us know about your experience.
Have you recently visited tried Jamaican beef patties for the first time or stumbled upon an excellent version? Let us know about your experience.