Grenada Island
Grenada, a beautiful island located in the Eastern Caribbean parts of the world. The island is about 100 miles north of Venezuela. However, they are a much closer neighbor to other island such as St. Vincent and the Grenadines.  This lovely island of Grenada is one of a tri-island state. The other two islands are Carriacou and Petite Martinique. Together, the tri-island states offer historical attractions and natural island fascination. Grenada has six Parishes (States). Each parish is represented by one of the six stars on the border of the country's flag. Grenada Island is a lovely vacation destination.
Spice Island
The Spice Island as Grenada is called, earned its nickname from the many spices grown on the island. They have a long history of cultivating spices dating back 100 years. As you move around the island, you can smell the scent of spices in the air in certain parishes. And not surprising, they are the second largest producer of nutmeg in the world. As a result, the nutmeg pod symbol on the Grenadian flag is a true representation of the Spice Island. Incidentally, the largest producer of nutmeg is a tiny Indonesian Island called Siau Island.
Nonetheless, to their credit, they also celebrate their own "Nutmeg Spice Festival" as part of their culture. And rightly so, the nutmeg is used as an ingredient in many of the island item for consumption. Nutmeg is added during baking, making ice cream, making soap, herbal remedies and many ointments for various ailments. Nutmeg is also use for syrups, ketchups, jellies, liquors and a host of stuff. The nutmeg is use to make a very popular and sought after product in Nutmed. Persons use this natural product as a pain reliever.
Nutmeg Mace
In addition to all the numerous uses the nutmeg has to offer, the red lacy wrap that covers around the shell also has its purpose. The red lacy cover known as Mace is used as an herb spice for flavoring when you are cooking soup and making stews. The herb is also added to sauces along other cooking to achieve a certain taste.  It's very understandable why Grenada is known as the Spice Island. Some of the many spices that can be found in Grenada are Cinnamon, Nutmeg, Tumeric (Saffron), Allspice (Pimento), Cloves, Ginger and more.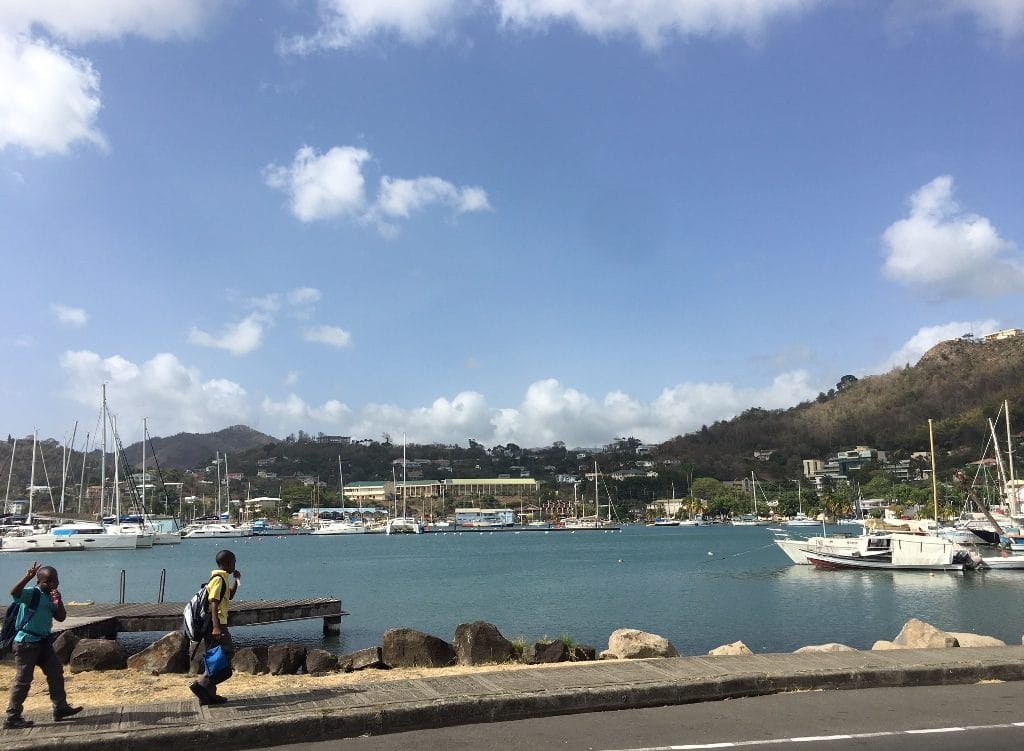 Kids Walking from School in St. George.
Paradise Island
Once you visit Grenada you will fall in love with this paradise island. The people are friendly and the accommodations throughout the island are warm and welcoming.  The island boasts a number of beautiful waterfalls. These stunning waterfalls add to the island's beauty. Some of the waterfalls include Seven Sisters Falls, Honeymoon Falls, Annandale Falls, Concord, Mount Carmel, Tufton Hall and Paraclete Waterfalls.  While all these waterfalls are accessible to the adventurous, it is recommended that you use a tour guide. A tour guide provides that ease of having a home court advantage which is priceless.
Also, the Spice Island is known for having some of the most pristine beaches. My favorite is Grand Anse Beach. This beach stretches over 1.25 miles long with the most magnificent soft white sand at your feet. The breath taken clear blue water is always at the perfect temperature. Grand Anse Beach will always be viewed as one of the gems of the Caribbean and around the world. This beach is located on the South Western part of the island in the Parish of St. George. There are several other beautiful beaches in Grenada showing off their turquoise water. Visitors can also experience Black Bay Beach with black sand and learn some interesting history.
Waterfalls
The island boasts a number of beautiful waterfalls. These stunning waterfalls add to the island's beauty. Some of the waterfalls include Seven Sisters Falls, Honeymoon Falls, Annandale Falls, Concord, Mount Carmel, Tufton Hall and Paraclete Waterfalls.  These waterfalls are Accessing these waterfalls can be done using tour guides from most tour companies.
Carriacou
While you are having the time of your life in Grenada, consider taking two or three days and visit one of the Tri-Island in Carriacou. While you are in Carriacou, you may want to take some hours out your day and visit the third sister island in Petite Martinique. Here you can experience a slower pace than Grenada and the people can even be more accommodating if that's possible. There are many guest houses and villas available for your enjoyment.
Carriacou offers lovely beaches as well for the beach lovers. Paradise Beach, a beautiful and exotic beach is over one mile in length of pure white soft sand. Then there is Anse La Roche Beach where you can enjoy great scenery. And for the adventurous hikers, tour guide Tony McLaren will take you to High North Peak Mountain. At the Peak you can have a great view of Carriacou along with sister Island Petite Martinique. Tony MaClaren is from the village of Windward. He is the son of the late Zepherine McLaren. Mr. McLaren was a master boat builder and most famous for his boat, "The Mermaid of Carriacou".
So when you are ready to trade away the everyday hustle and bustle and enjoy a more lay back yet adventurous getaway, think Grenada, think Carriacou. Once you are in Grenada, to get to Carriacou, you can use the Osprey Ferry Service and the Sea Plane. Both transportation are reliable, the plane will take about 15 – 20 minutes while the bout will take about three hours.
Grenada Destination
So the next time the family is trying to figure out a vacation destination other than Jamaica (Lol) consider Grenada. This charming island offers exquisite service and a known vacation destination. The year round temperature ranges between 75 to 85 degrees. The water is always warm. If rest and relaxation is what you desire or maybe mix with a few adventurous tours then this Caribbean Island is for you.
On a whole, Grenada is a great vacation destination. Once you visit the spice island, they promise you will be coming back for more.